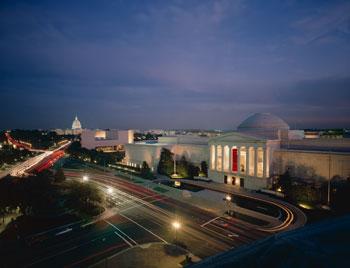 Location: Washington, District of Columbia, United States
Photographs: 7,700,000
Website | Online catalogue 
The National Gallery of Art was conceived and given to the people of the United States by Andrew W. Mellon (1855–1937) and established in 1937. The mission of the National Gallery of Art is to serve the United States of America in a national role by preserving, collecting, exhibiting, and fostering the understanding of works of art at the highest possible museum and scholarly standards. Since opening to the public in 1941 and through the generosity of many benefactors, the National Gallery of Art has become one of the preeminent art museums in the world. The art collection focuses on Western art from the late medieval period to the present.
Photo Archive 
The Department of Image Collections of the National Gallery of Art Library is a study and research center for images of principally Western art and architecture and is one of the largest of its kind, numbering over 15 million photographs, slides, negatives, microforms, and digital images. The department serves the Gallery's staff, members of the Center for Advanced Study in the Visual Arts, visiting scholars, and qualified researchers.
With over 7.7 million photographs of works of art and architecture, ranging from daguerreotypes to copy prints, the nucleus of the collection (some 60,000 photographs) was formed with the purchase of the George M. Richter Archive in 1943 with funds donated by Solomon Guggenheim.  Beginning in 1970 and continuing for thirty years, The Samuel H. Kress Foundation provided funding to build the collections through the acquisition of photographs from scholars, photographers, art dealers, universities, and museums. Particular areas of strength are in Italian, American, French, British, Netherlandish, Chinese, and Modern art and architecture. Information about our extensive rare and special collections can be found on the Department of Image Collections webpage at the link above. Access to the collection is provided through the Library's online public catalogue where currently approximately 300,000 digital files can be viewed attached to records for individual artworks and buildings.